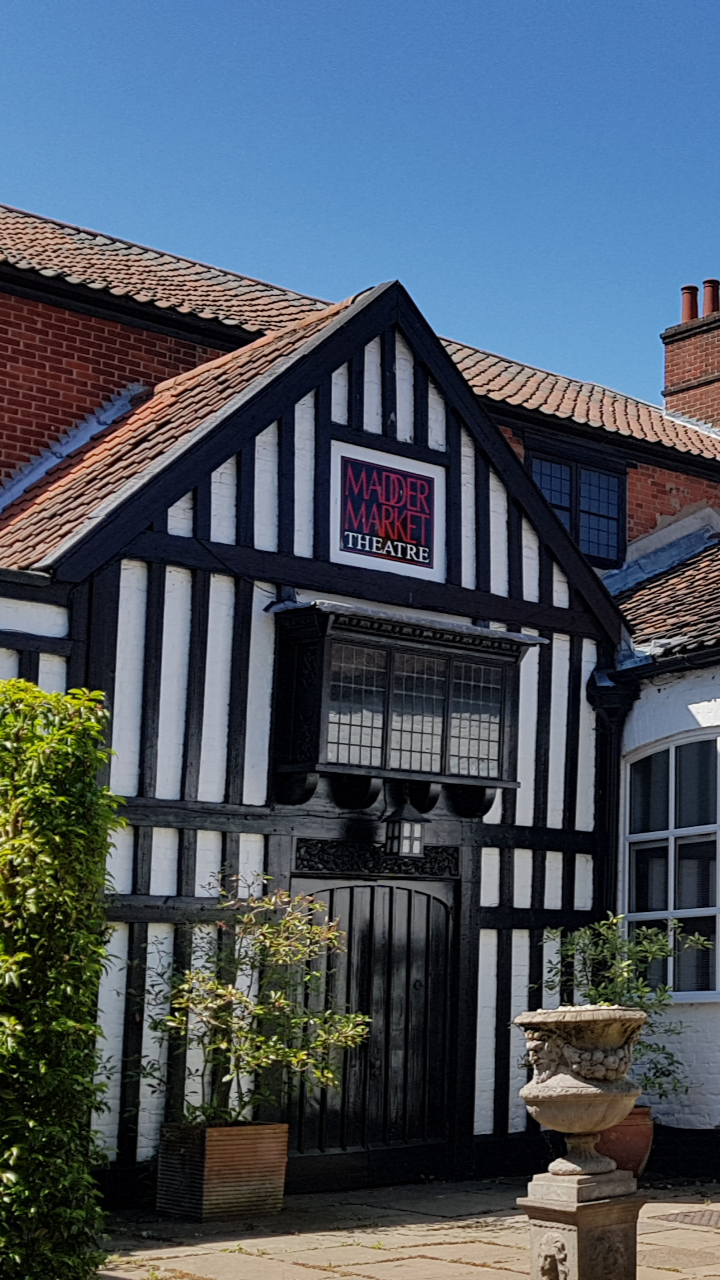 Romeo and Juliet by William Shakespeare
a Maddermarket Theatre production in cooperation with UEA Drama Department
Directed by Immi Lea
Romeo and Juliet by William Shakespeare
a Maddermarket Theatre production in cooperation with UEA Drama Department
Directed by Immi Lea
This is an exciting new venture that will combine the talents of UEA students, Norwich Players and, of course, anyone who wishes to audition.         Maddermarket auditions are always open to everyone.
Production dates: Tuesday 22nd-Satuday 26th March 2022
A note from the director:
I'm looking for a large, exciting company to go on this journey with. The setting for this version of Romeo and Juliet is a rural Norfolk village, where life centres on the Verona Public House. A salt of the earth farming family, The Montagues, are constantly fighting with the Capulets. Mr Capulet, Norfolk born, lives with his family in their second, very large, home in the village. They come and go from London, but the tension is always high, and this summer, the summer of Juliet's gap year, it's all about to reach boiling point.
ENSEMBLE
Romeo (m) (17-25) Charming, quick-witted, and sensitive. The son of a farmer and landowner. He's popular among the village locals and spends his days working the fields or mucking about with his friends.
Juliet (f) (17-25) Lived in London most of her life but moved to the family pile in rural Norfolk for her gap year. Somewhat naïve. Loves her family, but new in the community so she's pretty friendless.
Benvolio (m/f) (17-25) Romeo's cousin. Holds a soft spot for their friend, Mercutio. Genuinely makes an effort to defuse the constant bickering between the two big local families.
Tybalt (m) (17-25) Juliet's cousin and her only real friend in the village, aside from the nurse. Fiery temper. Finds the wild Montagues vulgar and more than irritating.
Mercutio (m/f) (17-25) Known to all in the village, and close friend of Romeo. Young army recruit. Imaginative, hot-headed, loves a good word game.
Nurse (f) (40+) Juliet's nanny and the house-keeper for the Capulet family. Born in the village.
Mrs. Montague (f) (40+) Romeo's mother, concerned with Romeo's melancholy.
Mr. Montague (m) (40+) Romeo's father, a Norfolk farmer.
Mr. Capulet (m) (40+) Norfolk born and a successful London businessman, who brings his family to their country pile every summer. Wants the best for Juliet, but his temper gets in the way.
Mrs. Capulet (f) (40+) Married young and struggles to communicate with Juliet, her only child. Not from Norfolk.
Paris (m) (20-30) He's country "old money". His father owns several Labradors. Would be a good match for Juliet, in her father's eyes.
Friar Lawrence (m-f) (40+) Local friar/vicar. Somewhat "alternative", a free thinker, and not impartial to the occasional herbal remedy.
Prince (m/f) (40+) The local law and order. Keeper of the peace and fed up with the fighting.
Sister Joan – Apothecary (f) (25+) A messenger sent to Mantua/A sea-side resort drug dealer.
Peter/Ensemble (m/f) (17+) A messenger for the Capulets, struggles to read.
Abraham/Ensemble (m/f) (17+) A friend of the Montague family.
Sampson/Ensemble (m/f) (17+) On the side of the Capulets and a friend of Tybalt.
Gregory/Ensemble (m/f) (17+) On the side of the Capulets and a friend of Tybalt.
Balthazar/Ensemble (m/f) (17+) Romeo's friend sent to Mantua, to tell of Juliet's death.
Other ensemble roles will be cast as appropriate, as well as understudy parts. To audition you are asked to prepare a monologue from any Shakespeare play. This does not have to be learned by heart, but the better you know it, the more relaxed you will be! You can choose any monologue you like, do not feel confined by gender, and it does not have to be from Romeo and Juliet. For any further information please contact romeoandjuliet2022@outlook.com
Audition dates/times
FINAL CALL for first auditions.
Monday 13th December 5.30- late at Maddermarket Theatre in the Cottage and
Tuesday 14th December 1.00-3.00 in the Maddermarket studio and 5.30-late at the Maddermarket Theatre in the Cottage.
All auditions must be booked in with Immi in the first instance at: romeoandjuliet2022@outlook.com
Although audition dates have been publicised, please do not turn up on the day without contacting Immi in the first instance