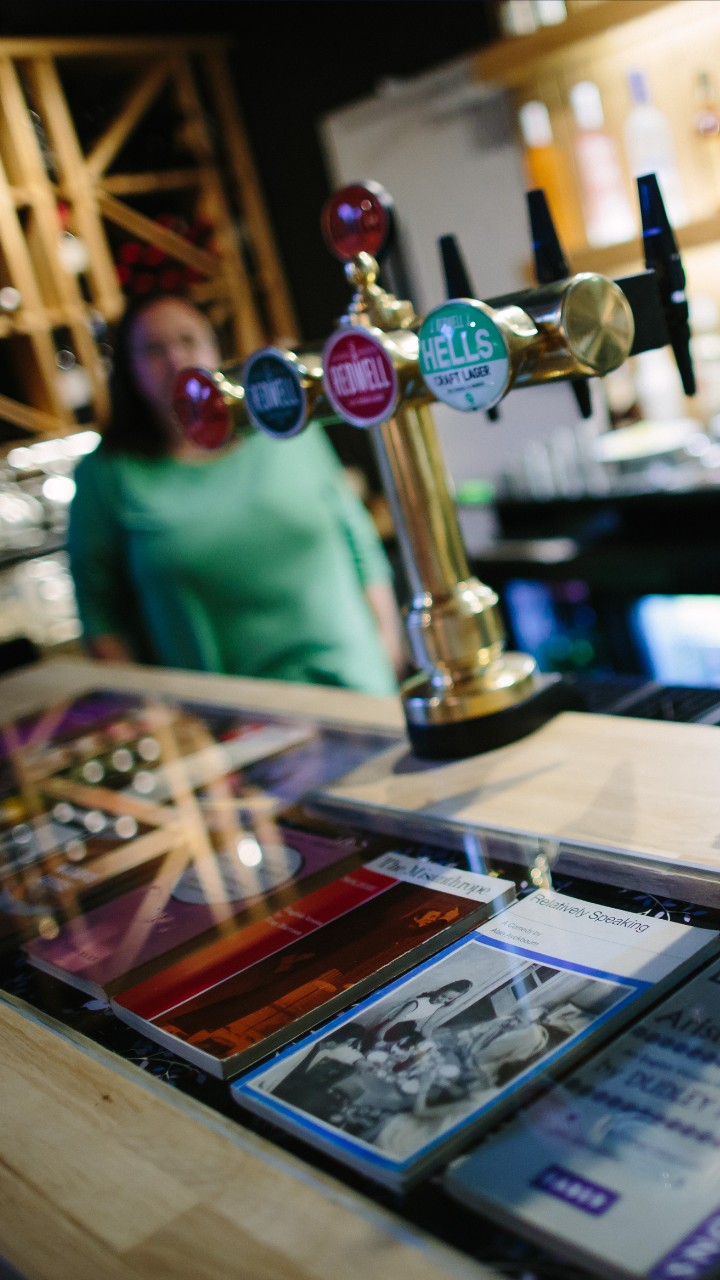 We are a community theatre and a registered charity in the heart of Norwich. We have plenty of opportunities, for those interested, to get involved in all areas of the theatre in a voluntary capacity. Read on to find out more!
Who can get involved?
Anyone! So long as you are over the age of 18, we welcome you to apply for any of our voluntary roles, regardless of your experience. Although for some voluntary roles within the theatre we do require applicants to have previous knowledge, expertise or experience, in the majority of cases we are happy to offer training to those who are enthusiastic and dedicated to learning. Therefore we often welcome to our team students and young people wishing to gain experience for their future careers. On the flip side we also see many people join our team having just retired; they are looking for something to bridge the gap between work and retirement and getting involved in The Maddermarket suits their new lifestyle.
Why should I get involved?
There are many benefits to volunteering at The Maddermarket: hours are flexible, you can meet new people and belong to a community of like-minded individuals, gain new skills all whilst boosting your CV! But don't take our word for it, hear what our volunteers have to say about why they volunteer…
"I volunteer at the Maddermarket Theatre because I meet like-minded people; this has led me to making lovely new friends whilst helping out at the theatre dear to my heart, in the heart of Norwich!"
"I volunteer at the Maddermarket Theatre because I want to support its activities and I meet a lot of interesting people."
"I volunteer at the Maddermarket Theatre because I love the theatre, whether that's performing or helping. I can see plays and don't feel as if I am on my own when I am at the Maddermarket!"
Where can I get involved?
At The Maddermarket Theatre we rely on our trusty band of volunteers for all aspects of our operation; from acting to stage crew, and all areas of front of house. So whatever your skill-set or interests we are bound to have a position that suits you. Browse the opportunities below and if you would like to become a member of our community, keep on scrolling to find out how to get involved!
Acting
Stage Management
Costume Department
Set Painting
Set Building
Technical
Stage Crew
Prop Making
Steward
Bar
Box Office
House Manager
How do I get involved?
If you are interested in acting, please visit our auditions page for more information. For all other areas of interest please complete the application form below and return to Emily Youngs, either via post, in person, or by email (emily.youngs@maddermarket.org). She will then be in touch regarding the next step for you. Please note that whilst you may apply for any role at any time, there are not always opportunities available in your required sector. We are currently looking for House Manager's and Bar staff in particular.
Download our Volunteer Application form here and apply now!